The world is finally settling down after the Avengers defeated Thanos and the Snap was reversed. But the effects of that will be felt for sure. Marvel boss Kevin Feige has also confirmed that this Spider-Man movie will close out phase 3 of the MCU. So you can certainly expect details on how everyone is doing and how Peter is doing after the Tony's death in the movie. It's abundantly clear from the trailers that he feels a responsibility to become the next iron man to carry on Tony's legacy. But it looks like all he needs to learn is how to be the friendly neighborhood Spider-Man.
The new Spider-Man movie is debiting a lot of new costumes and we are sure you are eager to try out each one. So here we will discuss how you can get the black stealth suit look featured in Spider-Man: Far From Home.
Stealth Black Suit In Spiderman Far From Home
This suit actually first debuted in the game called Spider-Man: Shattered Dimensions but now it has made its way into the movie too, and from the looks of it, it's a really cool look to have. If you like this Spider Man Far From Home Cosplay Costume rather than the red one then here's how you can get it: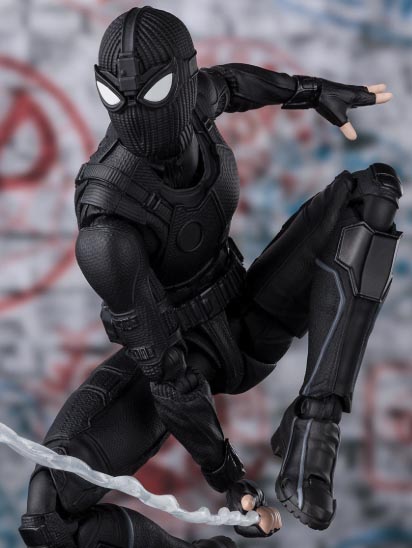 Black Stealth Mask: This isn't the normal red webbed mask as you would have already seen. For one, it's fully black and the cloth is also of a heavy material almost resembling wool. You can use black wool to make this mask if you live in colder climates, but if not, then just use a heavy but breathable black cloth to cut the mask. For the goggles you can use any swimming goggles and paint then accordingly. To avoid this hassle and to make your costume more accurate, just buy one.
Turtle Neck Suit: Get the body by buying a full sleeve, black, heavy shirt. If you want, you can make the spidey design on it. You can just get any such shirt off the numerous internet shopping sites, no need to buy this one.
Fingerless Gloves: The gloves here are different from the red and blue classic costume and not just because of the color. The gloves are heavier and have layers. Use an ordinary black glove as the base and then paste or tie a heavy leather glove cut out on it. This will give the bulky look which this suit has.
Leather Pants: As the name says, all you need to make the pants is to get a leather one off the internet. That's all you need to do.
Black Shoes: Here too, all you have to do is buy heavy black shoes or leather boots to nail this part of the suit. There's nothing much to ask the shoes apart from this.
Your suit is now done and you are ready for your comic con missions. You can also make this for your little kids and they can be great Halloween costumes too!